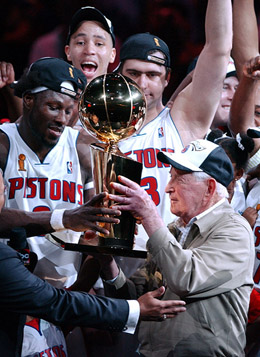 William Morse Davidson, J.D. (born December 5, 1923 in Detroit, Michigan) is an American entrepreneur and professional sports owner and a member of the Naismith Memorial Basketball Hall of Fame.

He is the chairman of Guardian Industries Corp., one of the world's largest manufacturers of architectural and automotive glass. He is also the chairman of Palace Sports and Entertainment, principal owner of the Detroit Pistons of the NBA, the Detroit Shock of the WNBA, and the owner of the Tampa Bay Lightning of the NHL. His Pistons won the 1989, 1990, and 2004 NBA Finals; his Shock won the 2003 & 2006 WNBA Finals; his Lightning won the 2004 Stanley Cup, making him the only owner in professional sports history whose teams have won an NBA Championship and a Stanley Cup in the same year. His combined business ventures have led him to an estimated net worth of $3.5 billion.



Source: Wikipedia.org



William Davidson's Profile
Hire Competent Managers and Place the Responsibility on Them:
The Pistons' majority owner likes success and has known it in his business interests. That's why now, the success of the Detroit Pistons comes as no surprise to those who are aware of Davidson's ability to manage people. His secret is simple: Hire competent managers and place the responsibility on them.
Pistons owner Bill Davidson gets Hall call
Allow Good Managers to Do Their Jobs Without Interfering:
However, Dumars was quick to praise Davidson for his leadership and vision.
"He allows me to go out and do my job," Dumars said at the time. "Without him, this wouldn't be possible."